Cloud hosted phone systems.
Can you have a cloud-hosted phone system?
The answer is a yes, definitely so and it will be normal in a few years.

In Australia, with the NBN roll-out, all telephone calls will need to be over the internet
as we do away with the fixed copper network. So basically you are forced into a cloud environment.
The question should be how do you connect to the cloud for telephone calls?
The current situation is that you share your telephone network with the internet. On your incoming line, you have a splitter that separates the two services and share a common line.
Both have an equal opportunity at bandwidth.
In the new NBN system, you have
you have an internet (or data) connection and share with voice. Data has precedence over voice so over using data effects Voice.
The good news is that you can have a lot more bandwidth and speed to compensate.
Now you have a great understanding of this subject let's look at Phone systems.
Old style phone systems need an analogue adapter into a modem or router and into the system.
Newer phone systems will need a digital card and connect using VOIP
Others may use a SIP connection using adaptors.
Or Use a phone system in the cloud and all you need on site is handsets.
Don't get to hung up on this, if the phone system is more than about 8 years old ditch it.
The same will apply if your upgrade is too expensive to re-card the system.
Now the choice is down to two.
a current system VOIP compatible from a leading manufacturer. Purchase hardware, have it
installed and ongoing maintenance by Tech call out.
A cloud-based system. Pay a flat monthly fee that includes handsets, maintenance and most calls with all the updates done by you.
Pretty unfair choice.
Phone systems will be a thing of the past within a few years as the growth of hosted systems take over the market
The NBN allows sufficient bandwidth to run both for any business up to say 5 handsets. For larger organisations, we sometimes recommend two services one for data and one for voice remembering that Data is king and can affect Voice.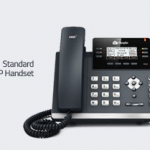 Want to know more
Give us a call on 1800116116 or fill out below and we will call you.
Peter Hanley